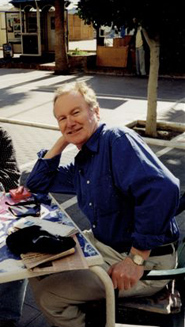 Roger Croft was born in Bushey, Hertfordshire, England. He was educated at private schools, Watford Grammar School and the University of Sheffield* where he read economics, law and accountancy.
Following national service [2/Lieutenant, RASC, British Army of the Rhine], he landed his first job in journalism with London's DAILY MAIL where he worked on the City (financial) staff.  In later years, he wrote for THE ECONOMIST and later joined the financial/editorial staff of the SUNDAY TELEGRAPH.
This was the 'golden age' of financial journalism in London, says Croft, when several larger-than-life editors reigned supreme; they included Fred Ellis, of the Express newspaper, Edward Westropp of the Sunday Express, William Davis of the Evening Standard and Francis Whitmore of the Daily Telegraph.
In the mid-60s, Roger Croft embarked for warmer and perhaps more romantic climes, first to Morocco** and later to Cairo, Egypt where he wrote editorials for the Egyptian Gazette, an English-language daily staffed by quirky, sub-editing English expatriates  whose casual editor-in-chief made only sporadic visits to the newspaper's 'somewhat decrepit' building in downtown Cairo. While based in Cairo, Croft also freelanced as a roving Middle East correspondent.
While on a quick visit to Canada, where his architect brother had emigrated, a 'stringer' for The Economist (Michael Barkway) invited him to use his skills as a financial journalist to help launch the refurbished Financial Times of Canada. He worked in Montreal as the paper's investment editor for five years and then joined the Times' bigger rival, the Financial Post, as investment editor. Meanwhile, he co-founded Investor's Digest of Canada where he was editor and publisher.  In the early 70s, he reinitiated his connection to The Economist as one of the paper's Canada correspondents.
In the 70s and 80s, Canada's biggest paper THE TORONTO STAR, recruited Croft as an Ottawa correspondent covering economic news from Canada's parliament. During a seven-year stint with the Star, he wore several journalistic hats including national economics reporter, feature writer and editorial writer. In 1978 he was nominated for a National Newspaper Award for a series of feature articles on the history of inflation.
Since he quit the grind of daily journalism, Croft has toured the world for novel ideas.
*SEE RECENT INTERVIEW [JUNE, 2018] with  ALUMNI MAGAZINE 'CATALYST'– 'Adventures in Journalism & Beyond'. Visit: mgtalumni@sheffield.ac.uk
** In Andrew Lownie's recently published [2016] biography of Guy Burgess, one of Britain's most notorious Cold War spies, he highlights MI6 agent George Greaves who lived a long life based in North Africa. In Chapter 26, note 7, Lownie writes: 'Greaves was a homosexual Australian journalist, a long-time Tangier-based stringer for Express newspapers with close links to British intelligence, and figures as the MI6 head of station in Tangier in Roger Croft's novel The Wayward Spy.'
CROFT NOTES::  My tenuous connection with Greaves came through our joint employer, the Beaverbrook press. I worked for the London Evening Standard in those days and George was a stringer for the Daily Express and the Sunday Express.

My novel was fiction [obviously] but I listened to George's life story as we drank beers and cocktails in Tangier's sidewalk cafes and at the bars of the port city's numerous hotels–both five-star and tawdry. George's stories, too, were exotic cocktails–of fact and fiction. I used the fiction bits for the character who makes his first debut in The Wayward Spy. He reappears in The Maghreb Conspiracy, the third novel in my Mideast Spy series.